Testamonials
The following comments are taken from the Captain's View guest book. We think they speak for themselves!
August 2003
Came for one week………stayed for four! If it wasn't for work, we'd want to stay more!!!!!!
Dear Melinda, Theo, Afrodite, Kimon and Rhea…… It has been an absolute pleasure meeting you all! Thank you for providing such a beautiful place to stay – you have created a real haven! (….or heaven!!!). Thank you also for all your help, without which the extra three weeks would have been impossible. Wishing you all, and the cottage.
Much love, peace and happiness.
Elaine, Steve and Dan (UK)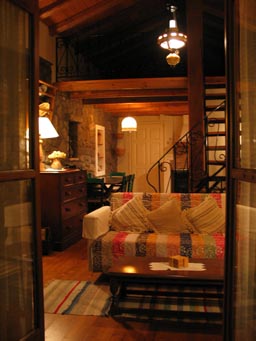 December 2003
Nice and comfortable house (despite bad weather in December). Warm welcome from Melinda and Theo – caring people. Certainly a place to recommend. Hope to come back (in another season)
March 2004
Wonderful welcome.
Wonderful accommodation.
Wonderful view.
Wonderful weather (mostly!)
Wonderful company.
Wonderful holiday.
Love from Gill and Sally (UK)
March 2004
Words can't describe what a wonderful time we have had! Melinda and Theo, your cottage is the perfect place to holiday and you have both been perfect hosts – attentive but not intrusive. The website doesn't do justice to this lovely place – it is truly special. See you in July and again next March.
John and Rosie (UK)
April 2004
There is one thing I really hate about the house! That is 'I have to leave it'. My sister Nancy agrees with this by 100%. We'd love to come again with more friends. Sure they will love it too.
Coco and Nancy (China)
April 2004
Lesvos is a grand island and much appreciated by all of us. And the birds came through for the watcher in tour group. Thank you for your wonderful house.
Marian (Washington, USA)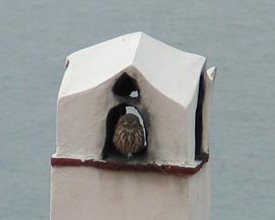 Thanks for your wonderful place. It felt like home! This island is very beautiful and do hope to return. Being the birder in the group, this area is magical! Birds everywhere. There is a scoops owl right at the intersection down the hill, when you turn to the harbour. We heard and saw it most every night!
Cheers, Bruce (Tacoma, WA. USA)
May 2004
One of the nicest self-catering houses we have visited (and we have done quite a few!). Well done to both of you. The birds have been great, the weather wonderful, food and retsina brilliant - we shall return.
Many thanks, Carol and Brian (UK)

May 2004
We had faith not to pre-book all accommodation in Molyvos knowing we'd find somewhere perfect for the conclusion of our honeymoon…. and we certainly did. We loved the house, adored Molyvos, Lesvos, Greece. Thank you for making us so welcome.
Love, Monique and Paul Smith (Queensland, Australia)
June 2004
We have decided we're not leaving. We're moving into your home here and future guests will have to find other accommodations! We were hoping to write some lovely words on just how much we truly felt at home here, but as you know, we partied too long and hard with all of you last night at The Captain's Table! An abundance of ouzo, wine, tears and goodbyes. However, we did manage to give you our deposit for next year and it can't come soon enough!!! You know we love Molyvos, your home, restaurant, and most of all, your dear, dear family! Stay well and happy.
Much love, Alex and Byron Neal (Portland, Maine)
July 2004
Thank you so much! What a wonderful, relaxing week. The house was perfect, the island magical. We'll be back! A family vacation to always be remembered.
Norah, Rodney, Catherine, Ted and Julia (Ohio, USA)
August 2004
Thanks Melinda and Theo,
Thanks a lot – we loved it!
Gisela, Rosa, Freda.
August 2004
Dear Melinda and Theo, thank you so much for letting us stay I your wonderful cottage. Highly recommendable!
Kari, Marainne, Penelope, Jason and Ira.
August 2004
Αγαπημένη μας Μελίντα και Θόδωρε σας ευχαριστούμε για το όμορφο σπίτι που μας προσφέρατε. Ο Mόλυβος ήταν πανέμορφος και το καταπληκτικό σας σπίτι μας έκανε πιο ευχάριστη τη διαμονή μας. Μακάρι να μέναμε ακόμα 1 βδομάδα. Ελπίζουμε να σας ξαναδούμε !!!!!!!
ΟΙΚΟΓΕΝΕΙΑ: Κελαïδή, Μπετινα-Κυριάκος,Κλεάνθης.
ΟΙΚΟΓΕΝΕΙΑ: Αρβανιτάκη
Σοφία-Σωτήρης, Ερμιόνη-Κών/ος, ΦΙΛΙΑ ΑΠΟ ΔΡΑΜΑ
September 2004
Dear Melinda and Theo, you have created a perfect Molyvos House. It is incredible that this was not an old house restored; it feels settled and warm. Couldn't have been more perfect. You both deserve to feel very proud! We love your family; Rhea, Kimon, Afrodite are precious jewels. Also love your momma!!! We will be back next year.
Love and Hugs, Blue and Shanti Micheal and Dana (USA)
September 2004
I stopped worrying about work after only one day. It usually takes me 3 or 4! Thanks Melinda and Theo for a FABULOUS holiday!
Hugs, Mark Slater (San Francisco)
September 2004
A l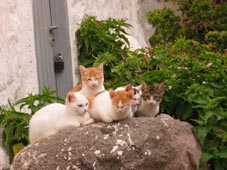 ovely, comfortable house – with a view so mesmerising, we find it hard to go anywhere else! Congratulations, Melinda and Theo, on creating such a special place.
Dale and Peter (Edinburgh)
September 2004
This is, without doubt the most beautiful house we have stayed in, in Molyvos. Spectacular views with stunning sunsets, and a pet owl! Many thanks Theo, Melinda and family.
All our love
Chris and Gregan (Edinburgh)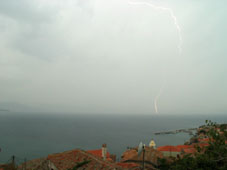 October 2004
This is not a house but a home and you instantly feel comfortable when you step inside. Even watching the rain on our last day was cosy! It's always hard to leave Molyvos but even harder leaving Captain's View. Looking at Rabbit Island, the harbour and the owl is very special and relaxing. The library is also a bonus! Many thanks
Heather and Yannis (UK)
October 2004
Someone once said: 'Greece is not about a place, it's about the people'. Melinda, Theo, their family and friends have proven this to me. You folks have made our holiday the best ever. Melinda's stone cottage is a work of love and art. The best kept secret in the entire world is the view of the ocean from the porch at sunset.
Roger and Bella (Colorado, USA)
March 2005
What a wonderful house from which to experience the many delights of Molyvos. We hope to return one day & stay for far longer. Highly recommended. Many thanks to Melinda & Theo.
Andréa & Toby (Melbourne, Australia)
March 2005
What can we say that hasn't already been said! We have had a fabulous holiday in your beautiful house here in Molyvos. We will see you again next year! Thank you again.
Sue & Chris (England)
Another wonderful holiday at Captain's View – even better than the last! Great hospitality in the perfect location. We'll be back as soon as we can – hopefully later this year but definitely next March.
John & Rosie (England)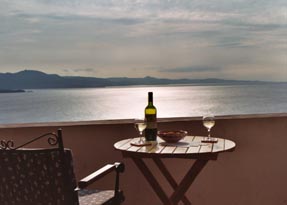 April 2005
What a perfect holiday! Just enough adventure – the weather! Just enough relaxation – wine & ouzo on the balcony. Just enough romance – a lovely village dog who adopted us. And a chance to make great new friends – Melinda & Theo. Wonderful home here – thanks for sharing it.
Hugs, Joan (Vienna, Virginia, USA)
April 2005
I had very high expectations for this stay in Molivos and they've been far exceeded.The immersion experience has been a "once in a lifetime" one that I hope to repeat. At the heart of it is the perfect house and Melinda & Theo. I cannot remember such a difficult goodbye. Au revoir.
Fondly, Deena (Toronto, Canada)
May 2005
A wonderful place to stay. Breakfast on the terrace, tasty bread from just down the road - local honey, jams and fruit. Lovely walks even if, or rather when you get lost. Some lovely meals at your restaurant. Melinda & Theo, thanks for such a special place and such a relaxing week. I would be hard to find a better place – the stunning views and such a lovely house with everything we could possibly need. It sounds as if we will need to book soon for the next time…
Love from Julia & Nigel (Bath, UK)
May 2005
The house was everything we hoped and more. The view from the terrace is magnificent and was the perfect place to unwind in the afternoon. Melinda and Theo, thank you for your hospitality and for sharing Molyvos with us. It was a wonderful vacation and we look forward to coming back.
Donald & Lorraine
June 2005
Dear Melinda & Theo, how is anyone at home going to take our word for it – how amazing it is to stay here? All the mystery and excitement AND self-catering AND the view! Stunning. I think the "Captain" deserves promotion – Admiral of the Fleet at least. We wish you well with you great new (ad)ventures and hope to come again, and again.
Tony & Jane (Sydney, Australia)
June 2005
The worst part about writing in this book is that it means we are about to leave. But do you ever really leave a place where you feel you partly belong? So when we are back on our island in Maine, a part of us will still be there in Molyvos. And who knows what might lie ahead? As you know, you don't have to be born Greek to "Be Greek"! Here's to many more happy reunions!
Love, Alex & Byron (Great Diamond Island, Maine, USA)
June 2005
Another fantastic holiday here in Molyvos made extra special staying at Captain's View. You know our thoughts on the place but our lips are sealed from now on, otherwise other travellers might want to stay here!
Love always, Heather & Jan (Durham, England)
July 2005
Dear Melinda & Theo, you put us on top of beauty and excellence by lodging us at the Captain's View and serving us at the Captain's Table. In respect and admiration of your outstanding achievement and care, we will always remember this holiday as the best ever.
Gerard, Monika (Germany)
August 2005
The Island is wonderful. Molyvos is a jewel. The Captain's View is more than just a house: it is a home. Our last evening and a long and wistful last glance over the bay glittering in the moonlight. We hope to return some day. Thanks!
Nina, Ivana & Tvrtko (Den Haig); Minia & Dionyssis (Athens)
August 2005
Our congratulations on creating an absolutely warm and comfortable home for all of those who want the chance to share a slice of Molivos life. It is what we, as a family needed, a home away from home and a welcome from your family. Best of luck with the next stages of your project – I've no doubt that they will be as fine.
Janalyn, Theo, Sebastien - "So long and thanks for all the fish"
September 2005
Another two glorious weeks in Molyvos, now sadly over; we've already sipped our last Cosmopolitans on the balcony and watched the sun set. Back to Edinburgh in the morning but not before booking again for next year!
Much love to you and your family,
Chris & Gregan (Edinburgh)