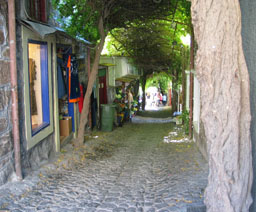 The Agora (Market)
---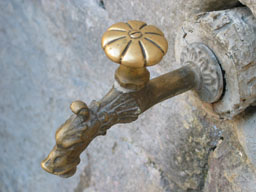 Public Water Fountain
at the Top of the Agora
---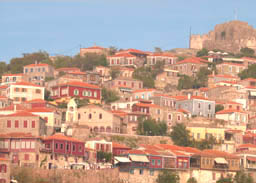 Captain's View is in the Middle
---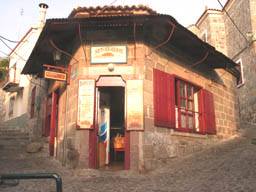 The Local Bakery
---
We round the final curve approaching the northern tip of the island of Lesvos and we are presented with an unforgettable sight that really does take our breath away. Molyvos (or Mythimna) could be described as one of the most picturesque villages in all of Greece, if not the Mediterranean.
Lots of gorgeous stone houses in the hues of greys, pinks, ochres and siennas dot the hillside under a spectacular medieval castle which, during the mid summer months, hosts theatres and concerts. Many of the houses are built in the old Turkish style with wooden overhanging upper stories and shutters painted in the traditional colours of maroon and dark green.
In the distance the blue mountains of mainland Turkey (6 miles away) make a magnificent backdrop to the scenic view of Molyvos.
The village tapers down to a small but busy fishing harbour, full of colourful caiques, trawlers and tiny local rowing boats. Numerous tavernas and cafenions (coffee shops) are situated on the edge of the waterside.
Molyvos has a two kilometre long pebble (and sand) beach, its own farms and olive groves, and is close to mountain villages and other attractive sea side and mountain beauty spots. There are remnants of every era of Greek civilisation: from the huge 'Lesvian polygonal' stone walls of the Archaic period, Classical and Roman ruins, Byzantine,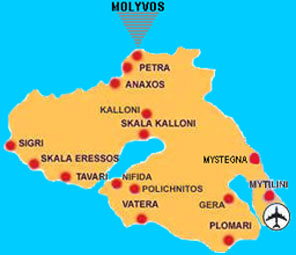 Genoese churches and chapels (and the castle), with many houses (and fountains) built during the Turkish occupation which lasted for several centuries until 1912.
The surrounding hills are full of bird life, sheep and goat herds; there are a few old men on donkeys and younger folk on horses (Lesvos is a great equestrian island). There are plenty of walks (and serious mountain treks) through the olive groves and hillsides covered in wild herbs like thyme and oregano, to forests of chestnuts and walnuts fed by clear clean mountain streams. One can read 'On Foot in the North of Lesvos' by Mike Maunder http://www.lesvoswalks.net/ available at 'The Glaros' (the seagull), Birgitt's shop in the harbour (also available in selected other shops).
Molyvos has everything you need: plenty of shops for groceries and souvenirs, cafes and restaurants, a few funky late night bars, banks, currency exchanges, newsagents, internet cafés, pharmacies and wheel hire of every kind to suit every wallet - from pedal bikes, scooters, mopeds and motorbikes to cars of all sizes, even four wheel drive vehicles. There are regular buses to nearby undeveloped coastal villages like Avlaki (with excellent tavernas on the beach), Eftalou (ditto plus a hot springs centre), Skala Sikaminia and other resorts and towns like Petra, with its church high on a rock outcrop, and Kalloni, with its salt pans populated by pink flamingos.
Historically, the name "Molyvos" is a relatively recent one, dating from during the Byzantine period (312 - 1355). The original name of Mythimna (indeed, this is still its officially preferred name) dates back to the 9th or 10th century BCE, and came from one of the five daughters of Makaras (Mytilene, Mythimna, Issa, Antissa and Arisvi); Mytilene gave her name, of course, to Lesvos's main town. For a comprehensive guide to Molyvos, see http://www.molivos.net/.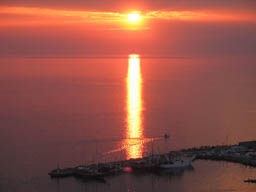 Spectacular Sunsets