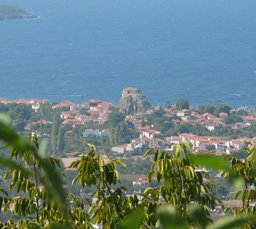 Petra from Petri
---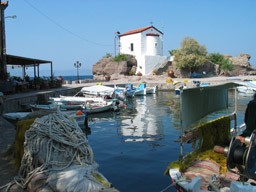 Skala Sikaminia
---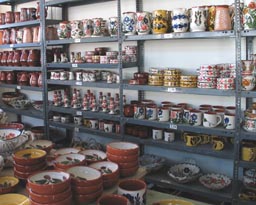 Traditional Pottery, Mandamados
---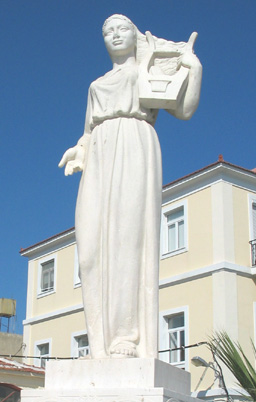 Statue of Sappho, Mytilini
Lesvos (Lesbos) is the third biggest island in the Aegean (after Crete and Evia). It is sometimes known as Mytilene* named after the main town in the south east corner where the airport is situated.
There are many different natural environments on the island: scores of virtually untouched coastal fishing villages and beaches which range from golden, black or red sand to pebbles of blazing white quartz; lush mountain river valleys around Aghiasos which is surrounded by chestnut groves; brilliant beaches at Drota, Sigri, Melinda (no relation!) and Eressos (birth place of the sixth century BCE poet Sappho). The salt flats near Kalloni are home to flocks of pink flamingos and many other aquatic birds and thousands of bird-watchers from all over the world visit the island in March, April and May as Lesvos is reputed to be the prime site for migrating birds from Africa to Northern Europe. There is a treeless 'moonscape' around Sigri where an entire forest was 'petrified' by volcanic activity a million years ago, an awesome spectacle.
Most amazing are the twelve million olive trees many of which once provided the island with its wealth. Many towns and villages boast nineteenth century 'oil mansions' and grand oil presses – a few are still in use with others converted into hotels and cultural centres. Olives are harvested at the end of the year and many grow on stone terraces which climb up and over the hills, always built from local stone which varies with the island's geology. These terraces probably took much longer to build than the Pyramids of Egypt or the Great Wall of China and are a true (still working) wonder of the ancient world.
Lesvos is also famous for Greece's best ouzo. It is highly recommended to be drunk with a delicious selection of mezes (which can be found at The Captain's Table in the harbour of Molyvos).
There are many colourful religious festivals at various times of the year. Monasteries, churches and chapels on the tops of mountains or hidden in valleys, all stacked with icons, chandeliers etc. are accessible and worthwhile visiting. In Mytilene there are excellent archaeological and art cultural museums, and the island can boast several great writers, Sappho, Mirivilis, Eftaliotis and Nobel laureate poet Odysseys Elytis as well as many others. The 'naïve' painter known simply as Theofilus's work can be seen in a beautiful museum in the village of Varea five minutes from the airport. Lesvos is also the location of several enduring Greek myths such as Daphnis and Chloe.
*Access to Mytilene is by regular and charter flights from all over northern Europe during the summer months, and is half an hour from Athens by air or from Piraeus, Thessoloniki, Kavala and Samos by car ferry all year round.
Links to other Lesvos sites
www.lesvos-island.com
www.lesvosisland.com
www.lesvos.com
www.lesvosonline.gr
www.culture.gr/maps/aigaio/lesvos/lesvos.html