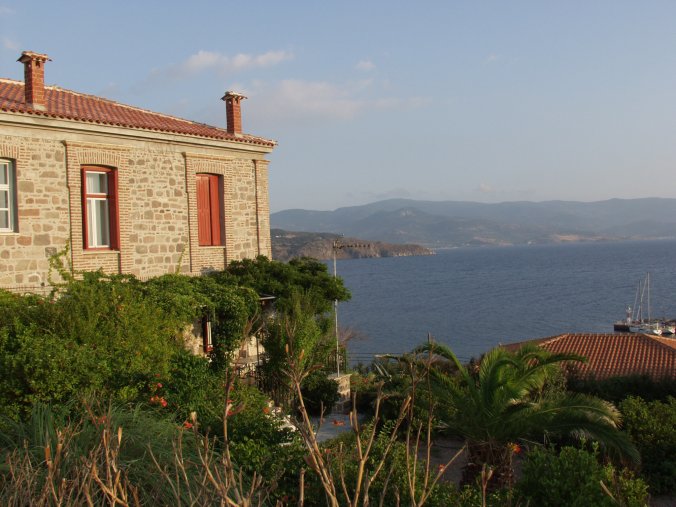 Built in 1926 this two storey semi detached house has been refurbished
and furnished in a true Greek traditional style.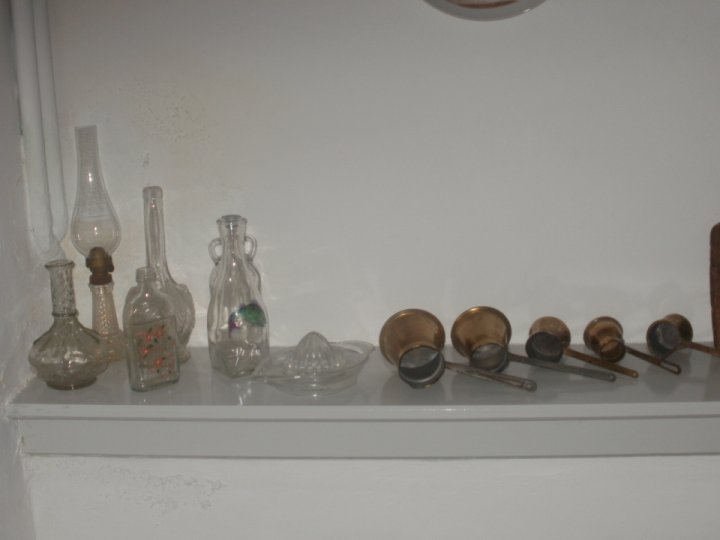 Great personal detail has been given to every aspect, much thought given to style and
comfort and the high ceiling rooms give a feeling of open space. The fact that this house
has an open fire place and central heating means that this property can also be
appreciated during the off season months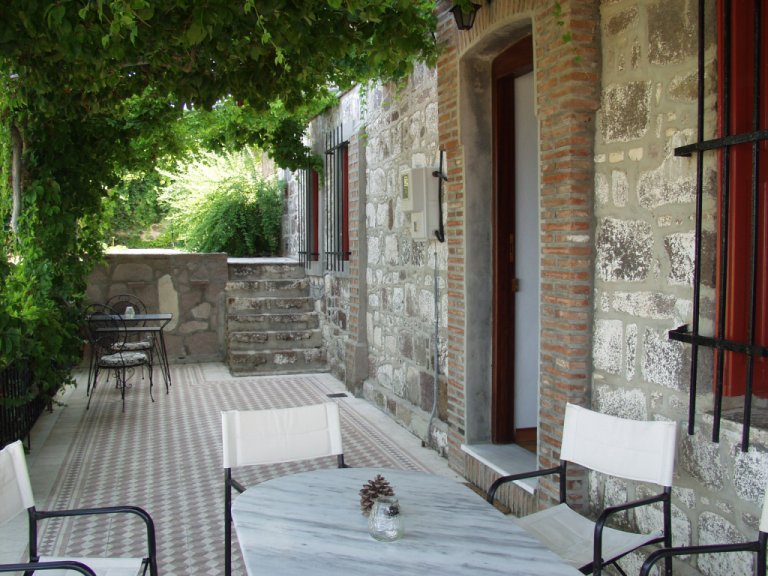 The spacious veranda with dining table and chairs is shaded by a mature vine.
Set amongst the well established grounds.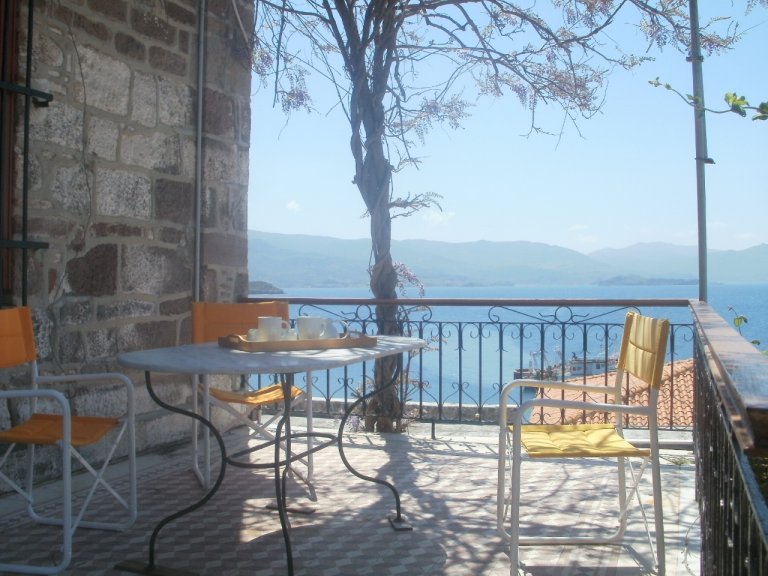 Stunning views while relaxing with your aperitif.
Ground floor
From the veranda one enters the living room from the main door, furnished with a corner couch
and comfortable wicker arm chairs.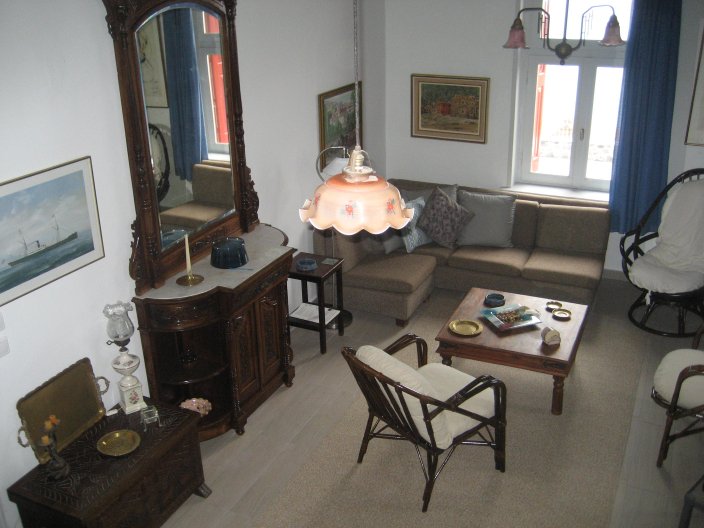 The family antique side board gives this room a touch of elegance.
Plasma tv 32 in DVD with sound system . Also plays CDs and Mp3.Hifi wireless with broadband.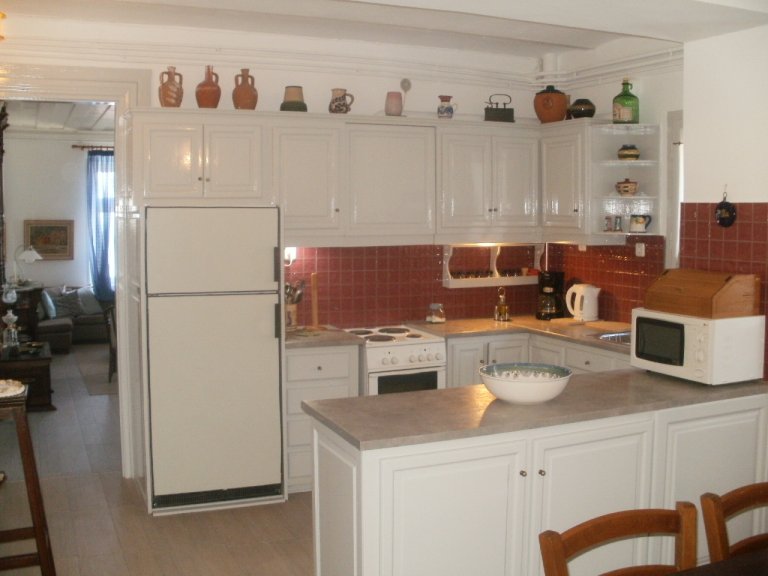 From the living room one has access to the good sized Kitchen that has everything to fulfil your needs.
Large dishwasher. Microwave. Family sized fridge. 4 ring cooker with full sized oven. Kettle. Coffee maker.
Toaster. Equipped for serving 12 people or more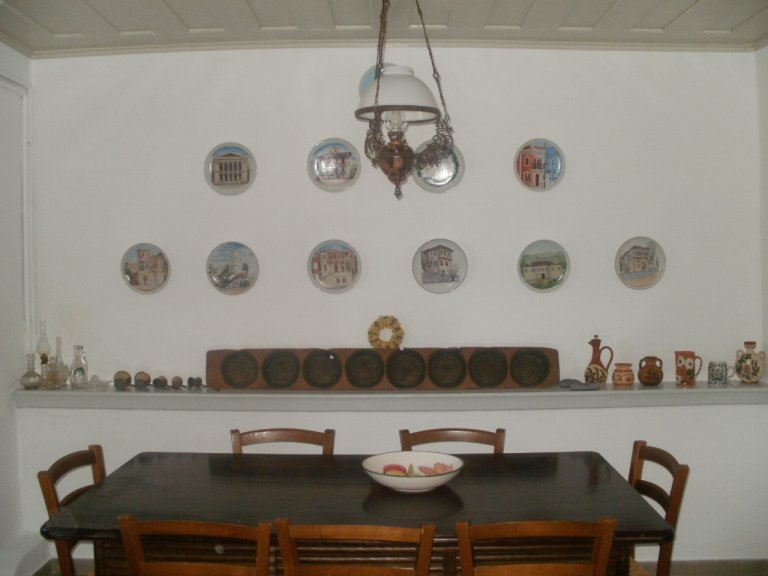 Dining table that can seat 10 people with ease. There is also a pantry which houses the washing machine,
Ironing board and iron.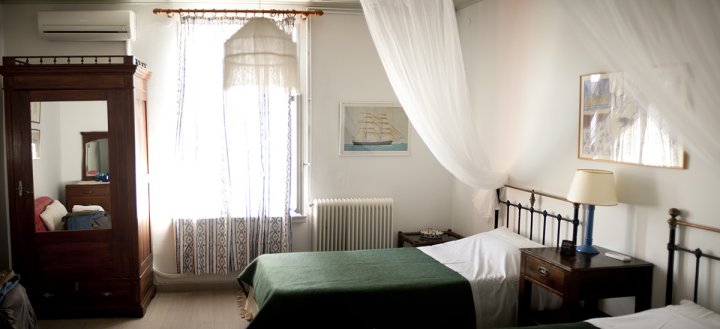 Also leading off the living room is a small hallway leading to one of the bedrooms and one the bathrooms.
Bedroom no 2 is furnished with twin iron beds. An easy chair that can be pulled out to make a single bed.
Antique cupboard and set of drawers. Air conditioning.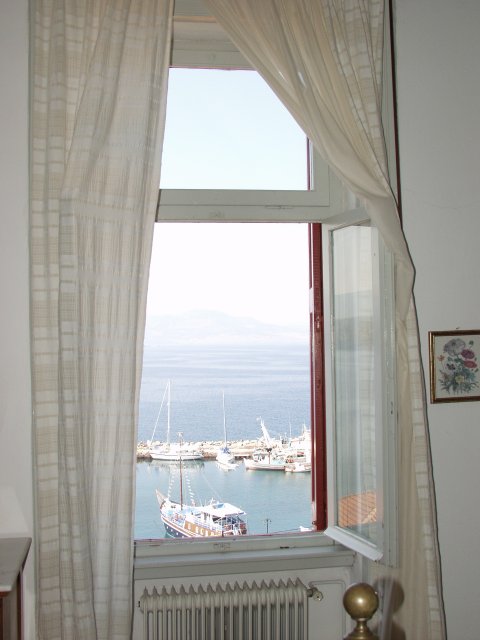 Window overlooking your swimming pool and surrounding area.
Across the hall is the bathroom with a small sitting bath that
has a shower attachment. Hairdryer and shaving outlet.
Toilet and hand basin.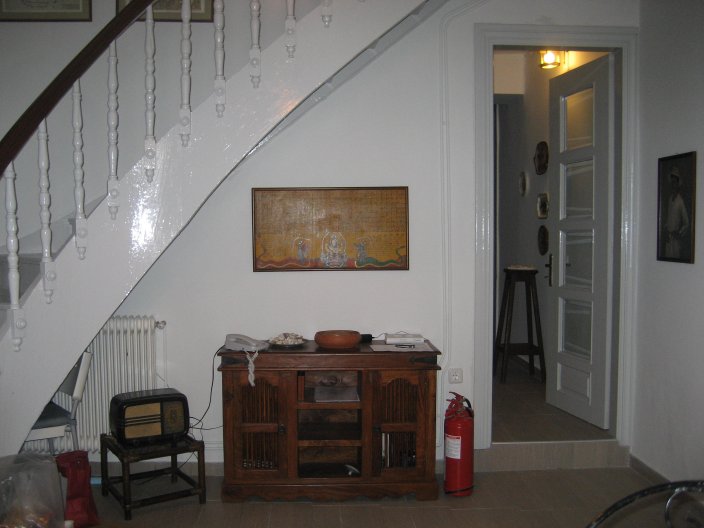 From the living room there is an impressive original wooden staircase that takes you to the 1st floor.
1st floor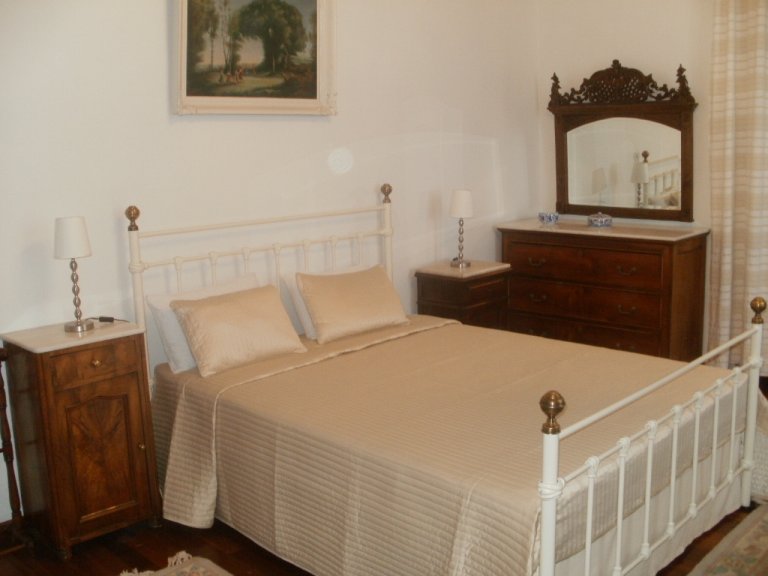 Main bedroom with king size impressive iron bed (165 cm x 200 cm). Antique wardrobe, dressing table
and desk. Small couch that can also be made into a single bed. Air conditioning.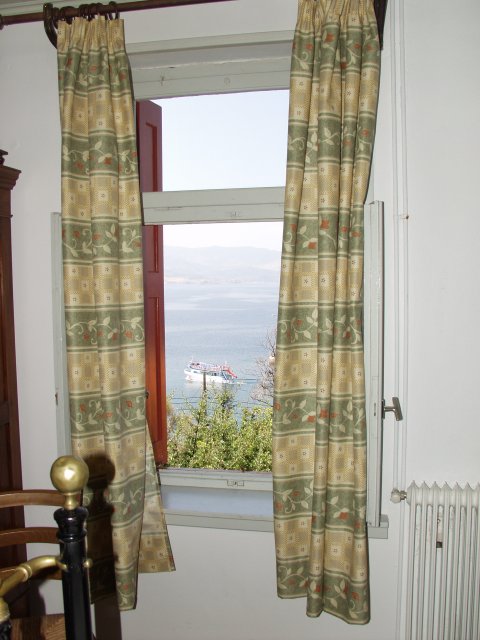 Two windows that gives lots of light and remarkable views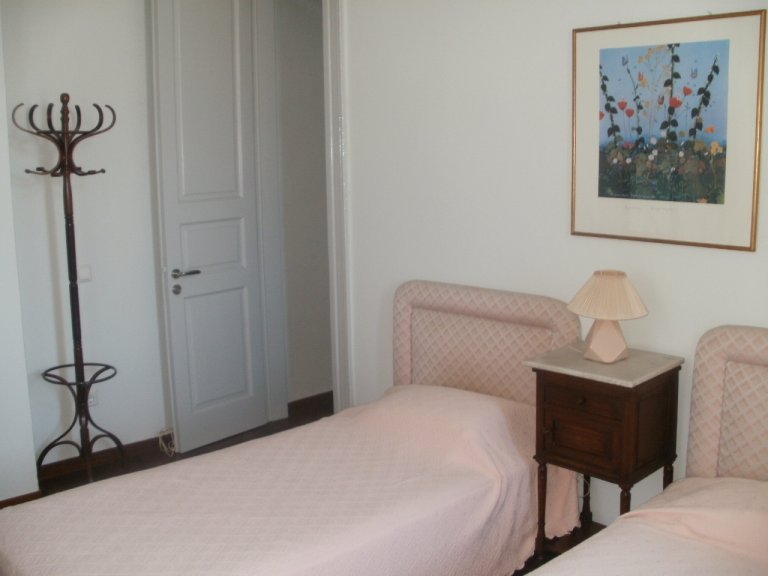 Opposite is the bedroom number three. This is the smallest bedroom with its wardrobe outside in the hallway.
The twin beds can be pushed together to make another double bed if wanted. Air Conditioner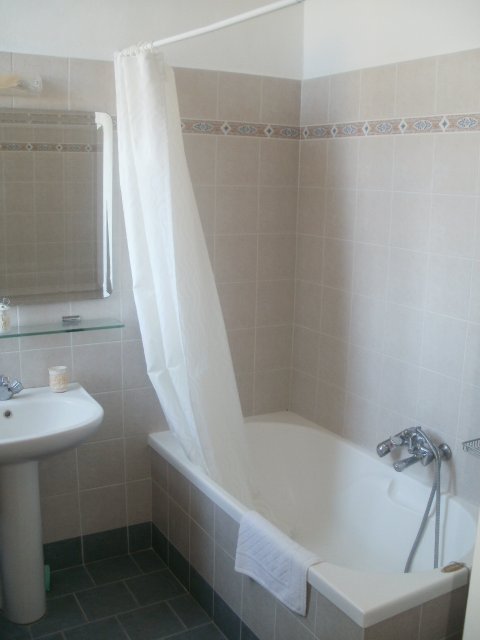 Main bathroom with full sized bath and shower attachment.
Toilet and hand basin. Hair dryer and shaving outlet.
Swimming pool
Picture pool pano


The pool is 4m x 10m. More than enough space for all to relax and enjoy sitting around the pool
looking at the breathtaking view of the Aegean sea. Comfortable poolside furniture with shade
provided by the umbrellas. All bed linen, bath and beach towels provided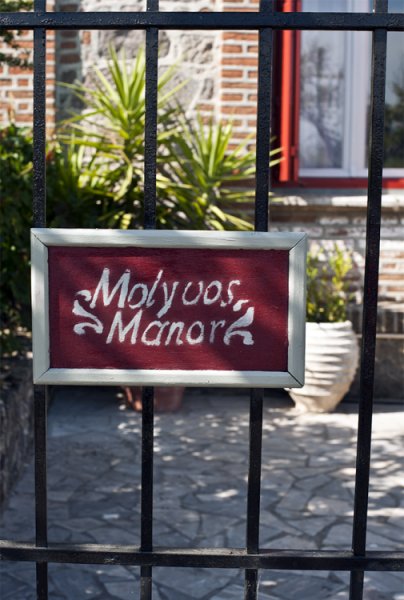 A bit of history
Molyvos Manor is actually half of the large home built in 1926 by Ioannes Krallis and his wife Maritsa Kalligeris. After the early death of Ioannes, Maritsa returned to her family in the village of Sykamnia. In the years that followed, it was occupied by the Germans during WW II, the communist guerrillas in 1944 for 6 months, earthquake victims in 1945 for 1½ years, the Art School of Athens during the 60s and then the Greek army took it over for two years 1974 /76. During the mid-eighties was it divided between Ioannes' two sons Stratis and Nikos, and renovated. In 1994 the house was named Molyvos Manor and has had many guests, lot of whom have returned year after year, preferring this unique spot for their vacations. Since then there has been further refurbishment to bring it more up to date but still in keeping with its original style.
Molyvos Manor Index